sea scooter,sea scooter china,sea scooter manufacturer,sea scooter factory,underwater scooter,aqua scooter,aquaskipper,waterbird,waterskipper,RC Electric skateboard,RC Electric board,Electric board,EEC Electric scooter

&nbsp

&nbsp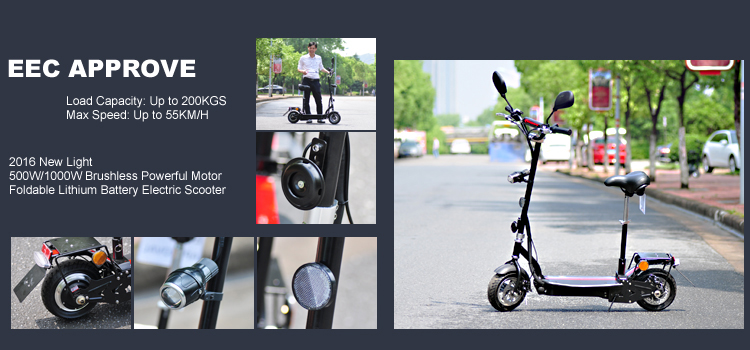 *Can set two different speed
*Can do 1000W brushless powerful motor
*Max Speed can be up to 55km/h
*EEC Approved
1.Light: &lt20KGS. The net weight only 15.5kg, Give you a better driving experience.
2.Powerful 500W brushless motor. Brushless motor almost no noise, long service life
3.Foldable. Save space, convenient carrying, you also can put in the trunk of your car, take out anytime and anywhere
4.36V,9Ah Lithium battery (high performance). Using Lithium battery is very light, long service life. Enough for your need.
5.Max speed up to 40km/h. The other factory only 20 to 30 km/h top speed, Although our speed is fast but very safe.
6.6.35km range per charge. Dont trouble charging all the time, you can open for a long distance.
7.Front &amp Rear disc brakes. This is the best way to brake with disc, more safety
8.Mobile App Connection. This is the coolest function, you can connect your phone with your car, and you can directly check all the information, including electricity, and so on
2016 new EEC Approved Electric Scooter, 500W brushless motor, available on 36V and 40V battery. One time charge range up to 50km. Contact us now for more details.
&nbsp
EEC APPROVED 2016 New Light,500W/1000W Brushless Powerful Motor Foldable Lithium Battery Electric Scooter
Key Specifications:
Product size: 110X56X120cm
Size after folding: 100x25x30cm
Motor power: 500W hub brushless motor
Battery capacity: 9AH, 36V lithium battery LiFePO4
Max rotation:1500rpm
Max output torque: 10.5N.m
Input Voltage: AC100-240V
Output Current:3A
Load Capacity: &gt120kgs
Charging time: 1-2 hours
Max speed: 30-40km/h
Speed preset: 15-20km/h
Range per charge: 35km
Brake: Front and Rear Disc Brake
Tire&nbspsize: 90/90-4
Wheelbase: 850mm
Climbing Capacity:&nbsp&gt15&nbspdegree
Color available:Various Colors
Package: Carton Packing
Net weight: 15.5kg
Gross weight: 19.7kgs
Out carton size: 109x32x45cm/1pc
Container:
215pcs/20, 445pcs/40, 520pcs/40HQ
&nbsp
&nbsp
Powerful 500W Brushless Motor, how is the climbing and loading capacity? Is it popular in trading fair? Check the video now.
&nbsp
&nbsp
The new EEC Type Electric Scooter is equpped with 500W brushless motor, optional on 36V and 48V, lithium battery. We have tested on two big adults running on the scooter in Canton Fair. So running on the soft grass land is a piece of cake on the scooter.
&nbsp
&nbsp
3 Speed Digital&nbsp Meter Display on 500W Electric Scooter(ES5014)

We have 3 speed limitation available on our electric scooter. The rider can set different top speed on their requests.The video shows you how to set the 3 top speed. It is easy.
&nbsp
&nbsp
&nbsp
&nbsp