sea scooter,sea scooter china,sea scooter manufacturer,sea scooter factory,underwater scooter,aqua scooter,aquaskipper,waterbird,waterskipper,RC Electric skateboard,RC Electric board,Electric board,EEC Electric scooter
&nbsp
&nbsp
&nbsp

&nbsp
About SEAEE Electric Skateboards
Key technic originated from Bosch Electric Motor R&ampD team, we have created the world lightest electric skateboard(3.5kg).The 50mm diameter electric motor offers 2.0Nm torque,loading capacity 100kg on the skateboard. The motor temperature is controlled under 50 Celsius&nbspdegree after 60 minutes continuous&nbsprunning.Our Electric Skateboards will bring you exceed extreme performance. Lithium-Polymer (LiFePo4) battery-packs, RC Anti-Lock Braking and Durable&nbspPU wheels, whether you go out for fun or ride on it to your neighborhood, the SEAEE Electric Skateboard will be your great mate.&nbsp
&nbsp
Special Features on the Electric Skateboard
Lightest 3.5kg weight
Super Efficient Hub Motor
Modern Surf Style 9 layers Maple Deck
Speed up 16km per hour
One time charge range up to 20km travel distance
Lithium Battery Pack
150 minutes charge with standard charger or 75 minutes charge with fast charger
Smooth Ramp up speed
Full aluminum skateboard rack
Overload protection
Forward/Reverse
Lower speed model for beginners
&nbsp
The World Lightest RC Electric Board with Hub Motor and Lithium Battery
Model: ES4001
Key Specifications:
Product dimensions: 700X220X115mm
Net Weight: 3.5kg/7.7Ibs
Drive: Rear single electric hub motor
Motor Capacity: &nbsp55wh motor
Motor max running speed: &nbsp2500rpm
Max output power: 400W
Max output torsion: 2.0N.m
Charge Input Voltage: AC100-240V
&nbsp
Standard Load Capacity: 100kg
Rated Max Speed: 15km/h
Battery Type: Lithium-ion
One Time Charge Range: 15-20km
&nbsp
Charge time: 2 hours
Battery Output Standard Voltage: 24V
&nbsp
Battery Output current: 1A
Control model: Remote 2.4G RF
Speed: Fast/Slow Adjust by switch
Wheel Type: PU Size 70mm
Accessories: Wireless RC Controller, Charger, Instruction Manual
&nbsp
Color available on step board: White, Original Wood Color etc.
Color available on PU wheels: White, Black and Orange
Customer OEM Order accepted on 500pcs order.
&nbsp
Package
Color Box: 70x20x14cm/1pc
Outer Carton: 72x42x30cm/4pc
Gross Weight: 20kgs
Container: 1240pcs/20ft, 2480pcs/40ft, 2800pcs/40ft HQ
We have attend 119th Canton Fair 2016 on our Remote Control Electric Skateboard. The customers are amazing on the light weight electric board. Especially the high torque output on such small electric hub motor.
&nbsp
Theres something undeniably cool about skateboarding, from its rebellious attitude to its larger-than-life stars like Tony Hawk and Shaun White. Its fun, its hip, its a way of life. Theres a good reason why skateboardings popularity has soared in the last few decades, and why offshoots like long-boarding and mountain-boarding are becoming more common.&nbspIn now days, lithium battery and compact hub brushless DC motor are offering perfect power solution on electric skateboards. 6.3kgs electric skate boards will bring you more exciting experience on skateboarding.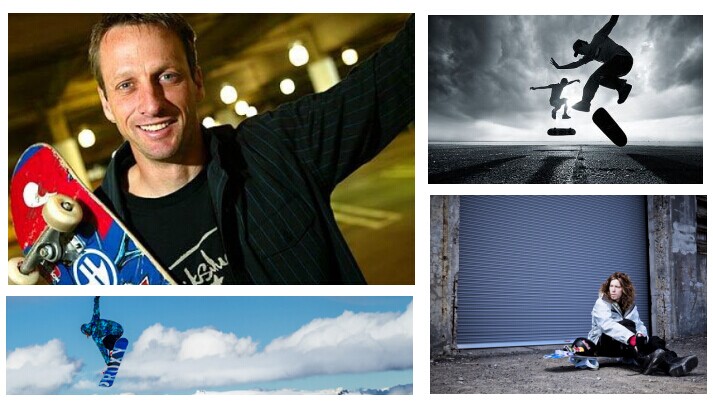 Why Chose Our RC Electric Skateboards?
You may find various RC Electric Skateboards from different suppliers with different offer globally. What is different on our RC Electric Skateboards from the other suppliers?
&nbsp
Let's have a close look on our skateboards on the electric hub motor, lithium battery, controlling chip, ball bearing, PU Wheels and wireless controller etc.
&nbsp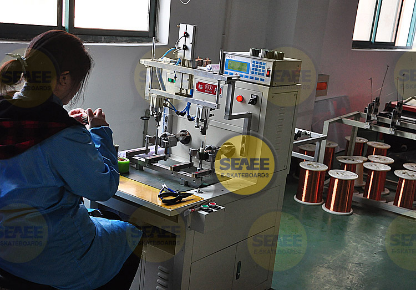 A. Brushless Electric Hub Motor
Factory self-made DC electric motors provides professional power solutions on our electric skateboards. All the Enameled Copper Wires and Silicon Sheets on the electric hub motor stator are imported from Japan. The cost is 2-3 times higher ordinary electric motor China domestic made. Much higher temperature resistant, and higher power loading capacity on Japan made Insulation Copper wire. Our hub motor has passed one month endurance test under 85 Celsius Degree and Relative Humidity 95rh% circumstance on overloading 130%. This is the most strict electric motor test in the world.
&nbsp
We can check the motor stator quality visually. Just look at the stator coils(also called Enameled Copper Wires) filling level in the silicon sheet gap. It is easy to understand fully filled Enameled Copper Wires will generate much higher torque output on the DC motor.But in order to save cost, some supplier leave does not fill the Enameled Copper Wires fully in the silicon sheet gap. Here are the photos for more details: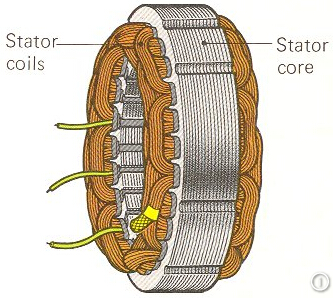 Here is the photo I found on internet, you can find there are big gaps in the stator core.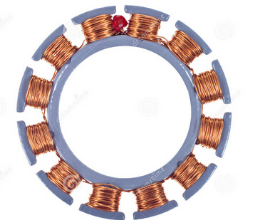 The following photo is on our motor stator.The Enameled Copper Wire Coils are full filled in the stator core. The cost is much higher than lower wire coils filling. More importantly, higher power output is generated from full copper wire magnetic.

B. Electronic Controlling Chip
The key electronic part such as electric capacity are supplied by APEX and Murata Electronics, The electric control chip is designed by our own engineer. Robustness and practicability are considered in the very first stage. The control chip have passed EDS(Energy Dispersive Spectrometer), high power voltage and EMI(Electromagnetic Interference) test.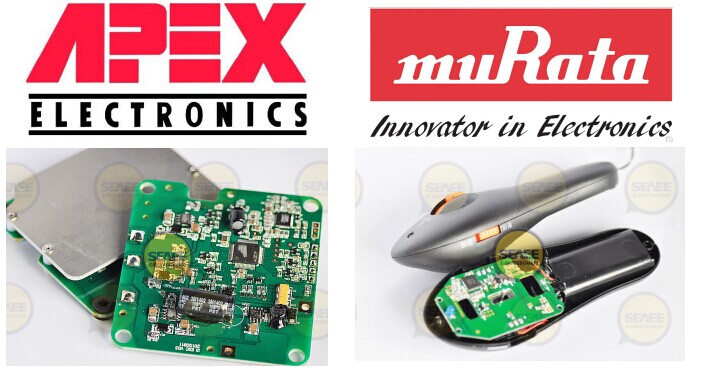 C. Lithium Battery Pack
24 volt lithium battery offer more than 60 minutes engine running after one charge, the well designed control chip keep good performance on the high efficiency motor power output. The motor surface temperature is lower than 50 Celsius degree after 60 minutes running. The software loaded on the control chip did a good job. Meanwhile, anti-shock are also considered on battery pack and electronic component in the battery pack.

D. Ball Bearing Made in Taiwan and Japan
High quality ball bearings are supplied by reliable manufacturer from Taiwan and Japan. The single row deep groove ball bearing are simple in design,non-separable,suitable for high and ever very high speeds and are robust in operation,requiring little maintenance. It enables our skateboard running smoothly and peacefully.

E. Durable Heavy Duty 70mm PU Wheels
There are 4 colors available on our PU wheels: Orange, Red, White &amp Black. OEM color tailored based on 500pcs skateboards. Here are the features on our PU wheels:
1)Outstanding abrasion resistance
2)High tensile and tear strength
3)Resistance to oils, fuels, and oxygen
4)Fabulous weatherability and high impact resistance
5)Low compression set

F. Water &amp Dust Proof
The electric skateboard running circumstances are always very complicated. Raining days, sea beach and other moisture and dusty places. We have set battery cable connecting and charger hole water &amp dust proofed on IP65.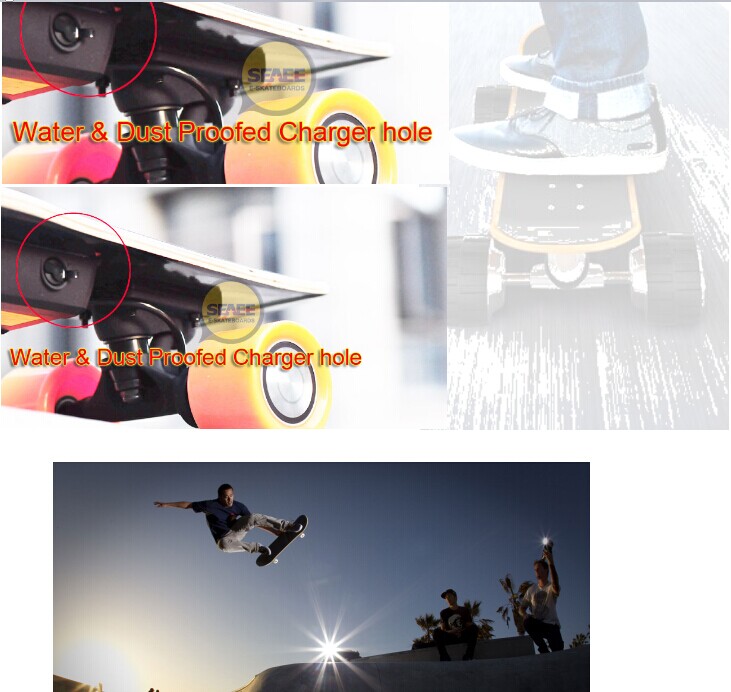 &nbsp
RC Electric Skateboard Photoes:
&nbsp